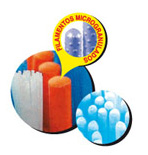 Whitening action rubber filaments with microgranules which guarantee a deeper cleanliness, providing teeth a whiter and shining look.
El perfil de sus filamentos, con puntas redondeadas, logra remover mayor cantidad de placa incluso en las zonas donde los cepillos convencionales no llegan.

Best Results against Plaque
TOTAL ADAPTATION Its handle adapts to the hand perfectly increasing the brushing results.