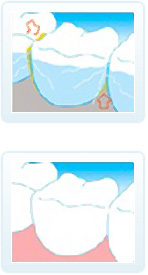 A mouthwash is, together with the toothbrush and the floss, the ideal complement for a perfect oral hygiene.  Its liquid  formula acts all over inside your mouth as well as in the interdental  areas where toothbrushes and floss can´t reach.
Mouthwashes must have fluoride to replace the minerals in the dental enamel, making your teeth hard so as to be stronger against decay.
They must not contain alcohol and must be reinforced with antibacterial agents to act against germs, which are developed in the dental plaque.
They  help  keep breath fresh longer .
Mouthwash should be used at least once a day . After brushing, rinse for about 30 seconds and then expel the liquid. Be careful not to swallow it!.